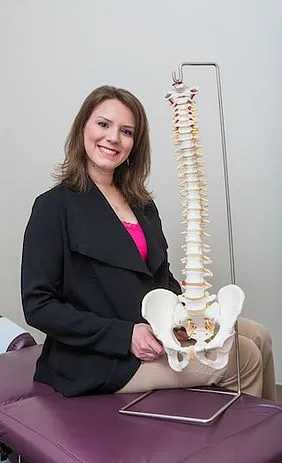 Dr. Sarah Meanor
Founding Physician of Total Health Chiropractic & Wellness
Dr. Sarah Meanor (also practicing as Dr. Sarah Meanor Brotschul) is a board certified chiropractor practicing with a "whole body" philosophy, identifying underlying causes of dysfunction and prescribing the necessary care path to restore the body to total health. Dr. Meanor utilizes many adjusting techniques in her Lawrenceville, NJ Chiropractic practice including Activator, Drop Table, Flexion Distraction, Diversified and Extremity Adjusting.
With a kind and caring approach, Dr. Meanor uses a variety of soft tissue techniques that complement her adjusting style. An instrument assisted soft tissue technique, HawkGrips, is used to release myofascial adhesion in injured muscle tissue. Dr. Meanor is certified in Kinesiotaping Techinique, a rehabilitative taping technique designed to help the body heal naturally while providing support to injured tissues without limiting normal joint range of motion. Dr. Meanor is dedicated to relieving her patients of pain and placing them on the right path to a pain-free and comfortable lifestyle.
Dr. Sarah Meanor graduated from New York Chiropractic College in Seneca Falls, NY in 2009, where she currently serves on the alumni advisory board. She received her Bachelor of Science in Chemistry from Saint Joseph's University in Philadelphia. Dr. Meanor began her professional practice with a noted medical group in her native town of Cherry Hill, New Jersey, where she developed her gentle healing patient philosophy for over five years. She maintains her board certification by meeting board standards as required.
Call us today at (609) 482-3794 to schedule your session and "experience our caring difference." We work flexible hours to fit our services into your busy schedule. Most insurance plans accepted.