Back Pain Specialist and Chiropractor in NJ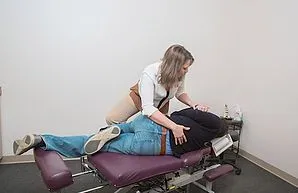 Characterized by pain or weakness in lower extremities, sciatica is a condition often caused by a misaligned lower spine or a disc herniation. Through the leadership of Board Certified Chiropractor Dr. Sarah Meanor, Total Health Chiropractic and Wellness in Lawrenceville, NJ can help prevent long-term damage to your sciatic nerve and correct spinal issues. If you're experiencing discomfort or suspect you may be suffering from sciatica, it's time to make an appointment with one of the top chiropractors in Central New Jersey at Total Health Chiropractic and Wellness.
Chiropractic Care Can Help

At Total Health Chiropractic and Wellness, we preform a thorough exam and review your detailed medical history to determine the cause of your condition. We will design a personalized chiropractic treatment regimen tailored to your unique chiropractic needs. We genuinely care about setting you on the right path to pain relief and recovery and producing noticeable results. If you are experiencing back pain from sciatica, schedule your consultation with the providers of the best chiropractic care offices in Lawrenceville, NJ today.
Take Back Your Health!
Call us today at (609) 482-3794 to schedule your session and "experience our caring difference." We work flexible hours to fit our services into your busy schedule. Most insurance plans accepted.